Buttons
If you would like to add a touch of purple to your blog, please feel free to link up with one of the buttons below. I made the buttons in three standard sizes, if you would like a different size, just let me know. Also, please send me an email or comment so that I can add your button to My Life, With a Touch of Purple.
300x300
200x200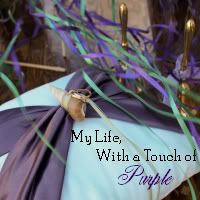 100x100
Disclaimers
My Life, With a Touch of Purple is a personal blog written by myself, with occasional entries from my husband. This blog does not accept any form of paid sponsorship or paid topic insertions. Any advertising that appears on the blog will be provided by a third party, I may receive compensation for this advertising on a "per click" basis.
My Life, With a Touch of Purple contains restaurant reviews, as well as commentary regarding other locations of interest along the coast of Maine. All reviews and opinions presented within this blog are expressed purely by the authors of the blog. I will only endorse restaurants, locations of interest, and any other product that I believe are worthy of such an endorsement. At the present time, I do not receive any sort of compensation for my reviews and commentary. In the event that compensation, of any form, is received, the exact type and amount of compensation will be clearly described at the end of the associated blog entry.
My Life, With a Touch of Purple does not contain information that could be considered to be a conflict of interest. All pictures posted on My Life, With a Touch of Purple are property of the authors unless otherwise noted. Pictures, or any other intellectual property that do not belong to the authors will be clearly marked with the source from which they were taken. If you have any questions about this blog or it's disclaimers, please contact me directly.